PLAYGROUND FOR ADULTS

I have always suspected that even middle class technocrats and bureaucrats want at least a little space for self-expression. Ron's arrival confirmed it. It is common to speak badly about the rigidity of corporate life, but in this case it was frustration with rigidity which was a push into playful creativity. Channelled in the right direction, the latter brought many positive results.

Ron is a financial analyst who gives time to a variety of volunteer activities. As soon as he walked through the door, he began making suggestions on how to improve things.

In the past, Ron has been involved with projects that explore the re-use of disposed materials in the urban environment. Initially, he was attracted to Serendipity Space by the artwork he saw in the window. Unexpectedly, he found a vast stage for action.

Ron tends to fluctuate from a detail-oriented pragmatism to a toddler's playfullness. Faced with disorder, he wraps up his sleeves and takes charge of the situation, no humble job being too low. Often after fixing a problem he would thank me for the opportunity to do it. Faced with a situation of order, he would do everything possible to mess things up, if possible irreparably, interrupting everyone's activity along the way.

Even before understanding what "Serendipity Space" is really about, Ron took on the task of greeting visitors, explaining to whoever came to the door that this is a community play station, that we are concerned about re-use, etc. It was helpful for awhile, because I find it difficult to talk to people who are merely curious.

Ron's obsession with objects found its focus. He began to "furnish" Serendipity Place with objects found in garages. At first he illuminated a collage in the window with a found lamp, which he fixed on the spot.

True to the idea of Reuse, he found and brought in a huge metal table with a glass top.Unfortunately he broke the glass, but then repaired it, all the while bleeding all over.
.................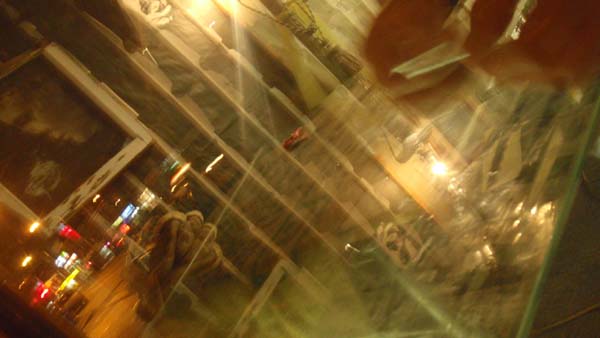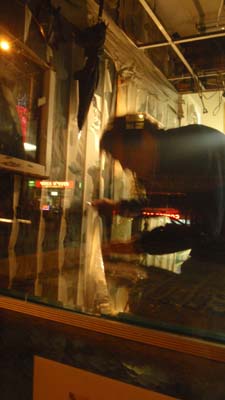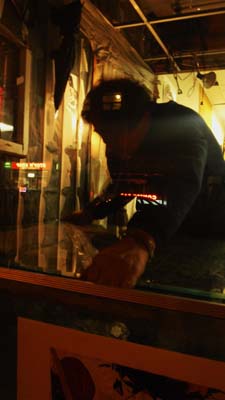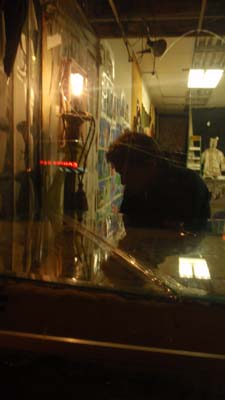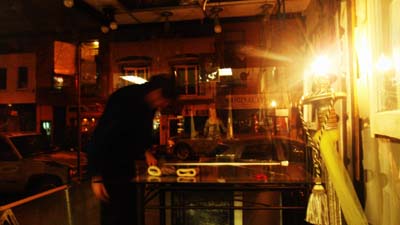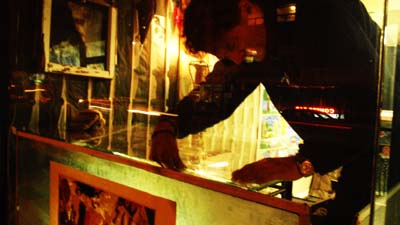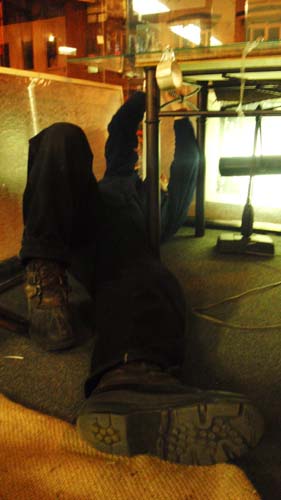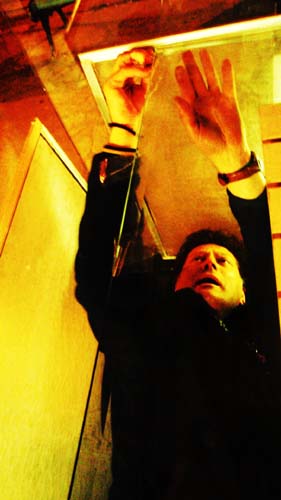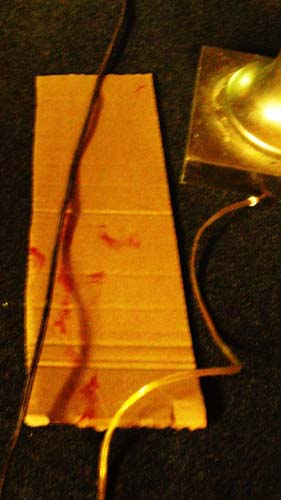 It was an incredible show of misplaced tenacity, something I tend to engage in as well.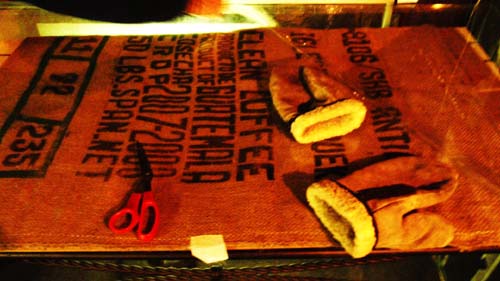 Ron's modifications of the space after only a week: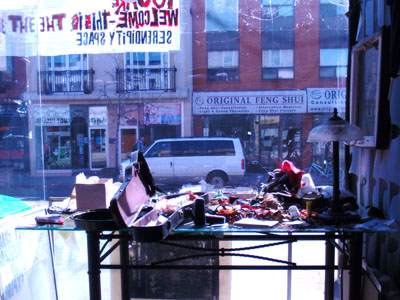 He recuperated the glass table and organized my instruments in the window.

He inserted information about the community into my exhibition. I never pay attention to flyers, but most visitors were happy to take them. So now we were "politically correct".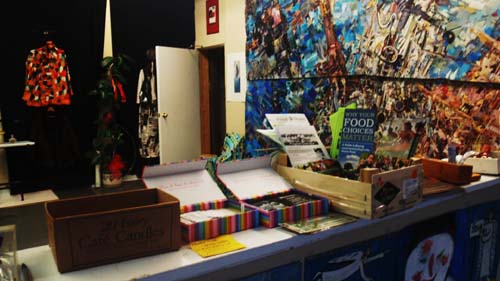 If there was a Guinness Prize for cleanliness, Ron would have been the winner.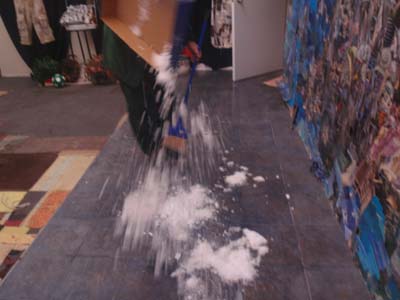 On the days of his visits, Serendipity Space was spotlessly clean.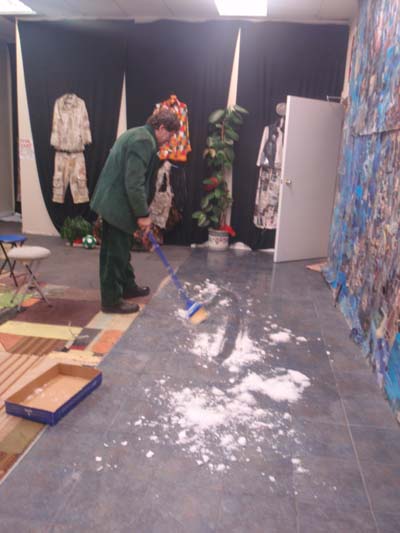 What's more important, he has helped me to change some of my thinking patterns. I used to say "The problem is...". He would correct me, "Challenge. There are no problems, only challenges."

Ron loves to make installations in the middle of the room for no reason. Most of the time it looks like a pile of objects, but sometimes he hits "bingo".When he filled a toy carriage with fruit, my neighbours shop owners were inspired to do the same.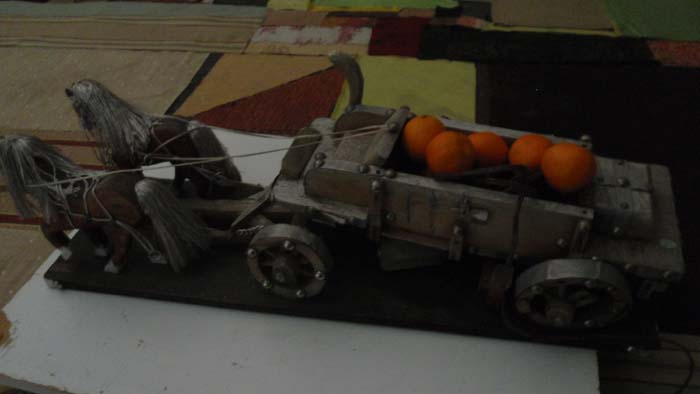 A flashlight within a vase made a perfect lamp that would honour any designer.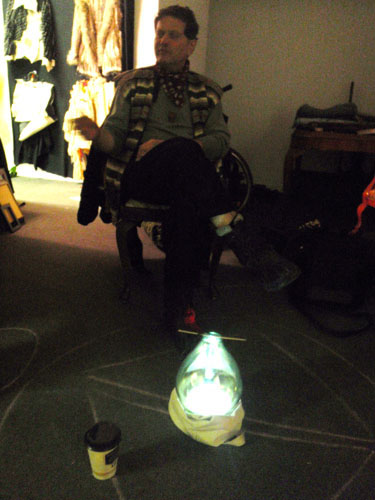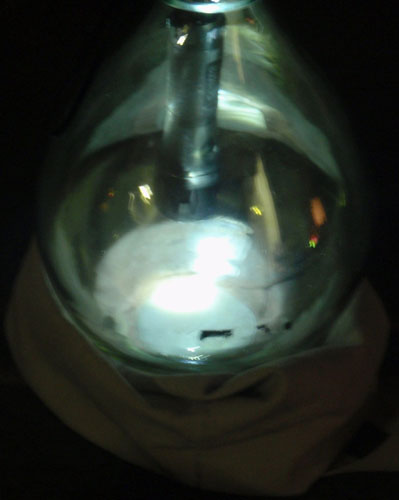 | | |
| --- | --- |
| | The space was badly heated, so I asked Ron to come up with a "quik fix" to allow me to speak to visitors comfortably. |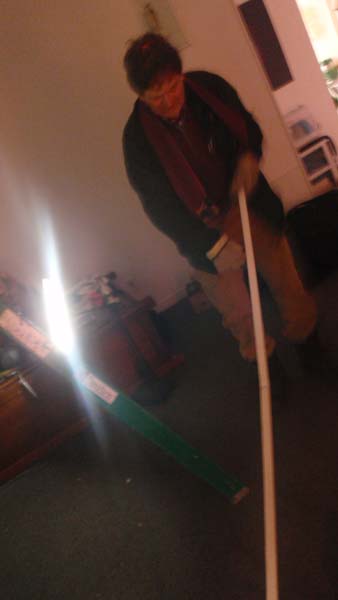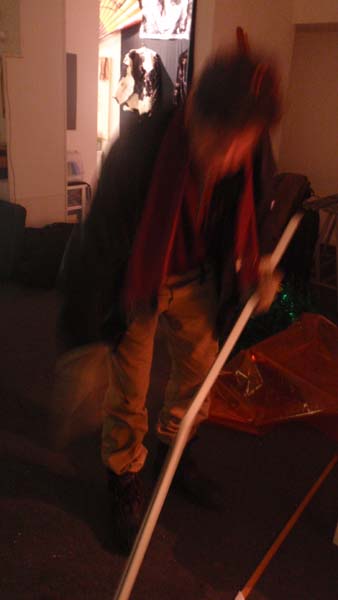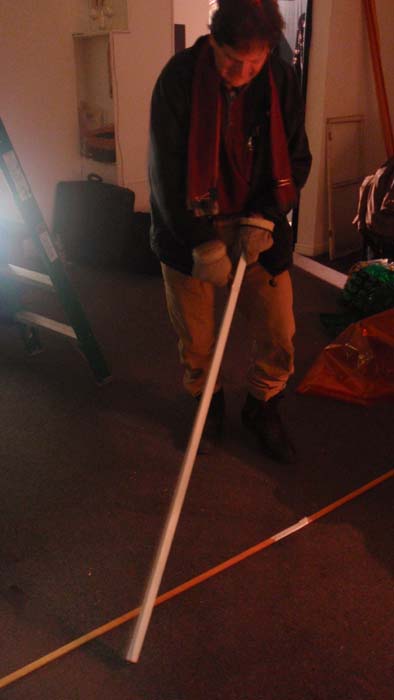 In a few hours, Ron created a self-standing stand with a few sticks and blankets .
When the tent was ready, he exclaimed : "I have not had so much fun since I was 12!" .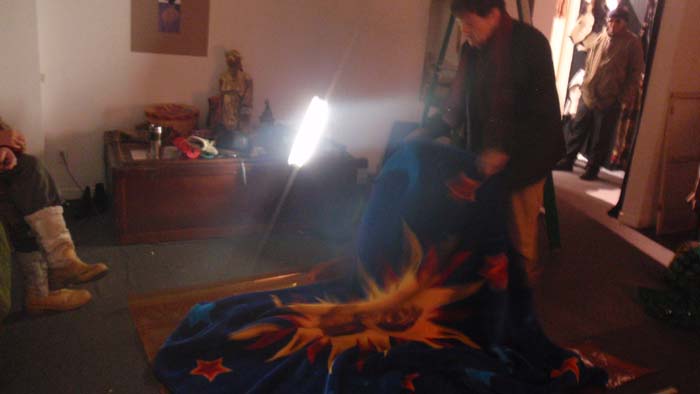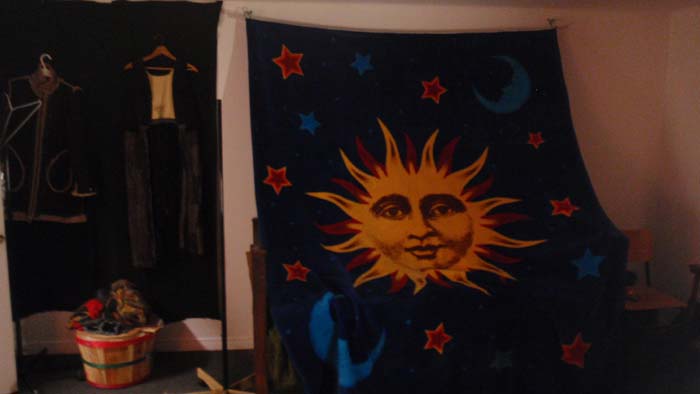 | | |
| --- | --- |
| | But of course, he wouldn't be content until he got to the root of the problem. So Ron explored the basement, and found the broken pipes. |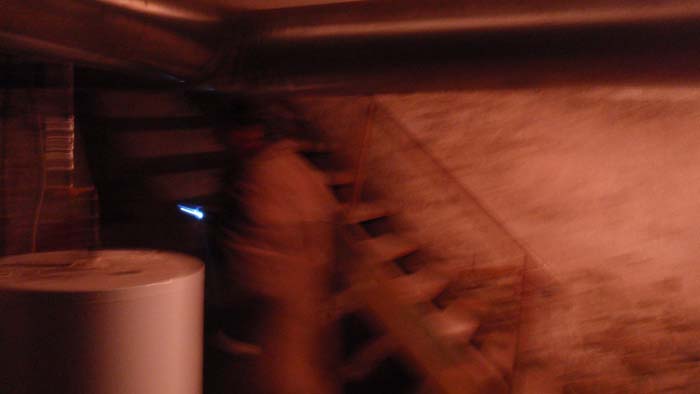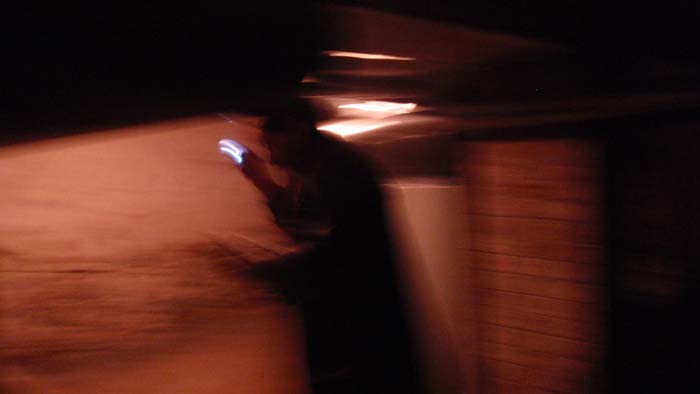 He was all set to fix the pipes, change the filters and sweep the floor, but I had to restrain him. It would not be "politically correct" towards the janitor, who, being a poet in his soul, loved decay.

"Think globally, act locally!" Censored in his attempt to modify the heating system of the entire building, Ron took a low-key approach by attempting to create a structure under the ceiling that was supposed to rotate warm air.

Tony watched with amazement how the Financial Analyst is hovering under the ceiling. When I tried to explain to Tony what Ron was doing, he cut me short: 'There must be a reason if he is putting it there!'

Ron's rotating device had to be censored, however. It was an interesting idea which required the cooperation of an artist who would be willing to transform Ron's rotating device into kinetic sculptures.

One day Ron arrived with a truck loaded with antique furniture. He had been meaning to restore it for years, meanwhile keeping it in the locker. All of a sudden we had antique chairs and tables to sit upon. His attempts at restoration looked more like a dramatic one man peformance. It seemed that he was trying to strangle some invisible enemy seated in the chair, and after much attention the chair was as flimsy as before.

Drilling and pounding disturbed the quiet of Serendipity, so Ron was forced too migrate to a junk-filled courtyard in the back, from which he has courageously cleared a few meters. He would become rigid with cold, so that project had to be abandoned.