SERENDIPITY SPACE MISSION STATEMENT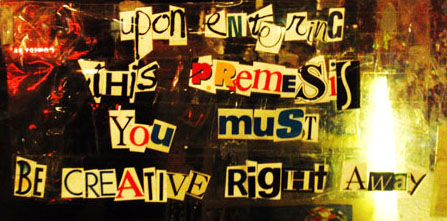 Serendipity Space gives the possibility for people with innovative ideas and motivation to realise their most daring dreams. We exhibit art work free of charge and experiment with creative interaction outside of rigid schemes. At times, Serendipity Space turns into a playground for adults from diverse social, economic and ethnic backgrounds. Other times it acts as an Art School or a Music Club. We give human warmth and psychological support to whoever has the courage to follow the magical logic of Serendipity.
Serendipity Space is also a grass roots think tank which generates and distributes innovative ideas. Here, neighbourhood people are not advised by "professionals" with bookish knowledge, but by passionate, street-wise people who are well aware of reality and spend a lot of time observing it.
Our interest in re-use of materials comes from necessity, which is the mother of all invention. All our furniture, instruments, toys and art supplies are reclaimed from the street or donated by our neighbours. A simple visit to our space is a great way to learn about unorthodox ways of re-use and recycling. Often people bring us good quality objects and ask us to pass them on to someone who needs them. We always do so, without concern for profit.
Serendipity Space moves on frequently, rapidly and without notice. Sometimes it exists for a couple of months, other times for half a year.
It is always Chance which provides the llanding spaces for Serendipity. Since the space arrives as a magic gift free of charge, there is no need to worry about charging other artists.
Free from the need to pay rent, make profit or compete for grants, one can leave behind the relationship of artist as a servant of a wealthy client. Without following a plan of any sort, one can afford the luxury of exploring everything unpredictable.