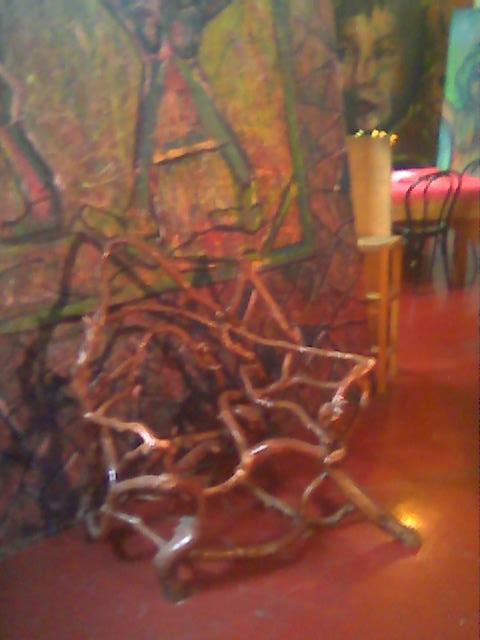 WOODEN SEAT,CREATED BY ONE OF THE INHABITANTS OF THE STUDIO.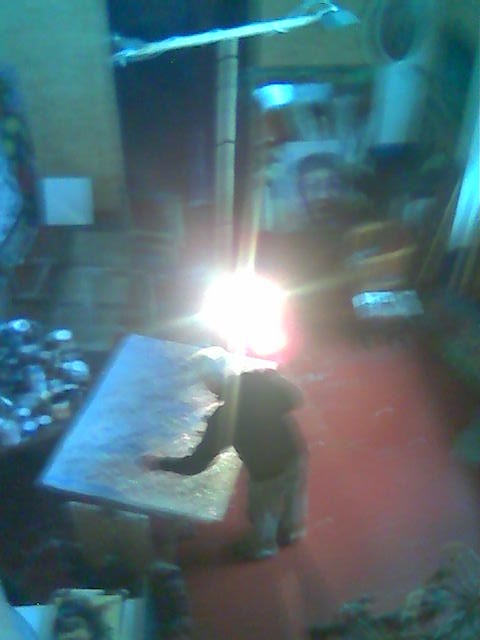 PAINTING AREA IS ILLUMINATED BY NUMEROUS BAMBOO LAMPS ; LIKE MOST OBJECTS FOUND IN THE STUDIO;LAMPS ARE "MADE IN THE HOUSE".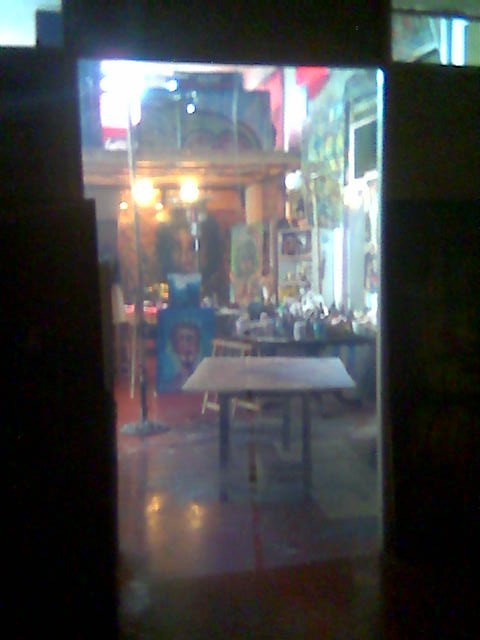 PAINTING AREA SEEN THROGH PLASTIC DOORS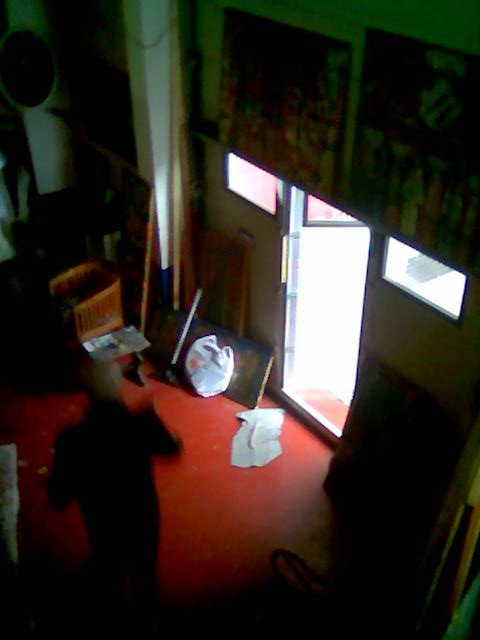 MAIN ENTRANCE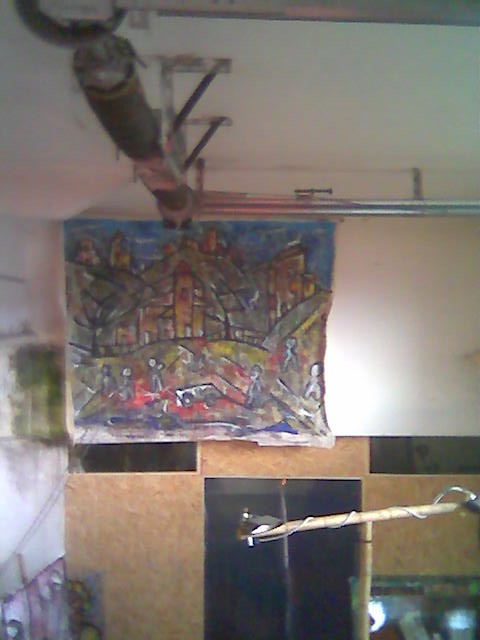 THE CEILING OF THE STUDIO IS "DECORATED"BY TUBES .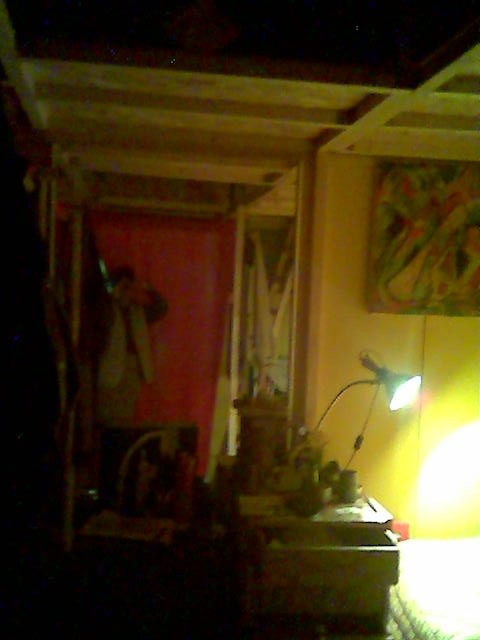 THERE ARE NO ROOMS IN THE STUDIO, IT HAS BEEN DIVIDED INTO HUGE SPACES DEDICATED TO WORK AND SMALL LIVING CABINS MADE OF WOOD.THERY ARE SMARTLY MADE, EASILY ASSEMBLED,LOW COST STRUCTURES WHICH ARE NOT ATTACHED TO THE WALL AND, THUS, CAN DISAPPEAR WITHOUT LEAVING ANY TRACE.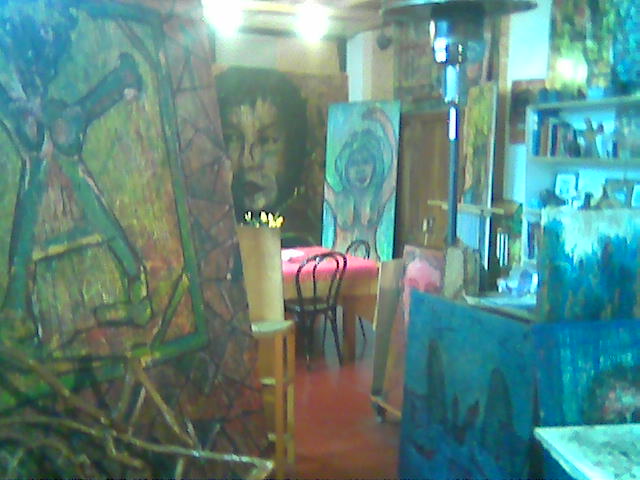 VIEW OF THE DINING AREA AS SEEN FROM THE PAINTING AREA.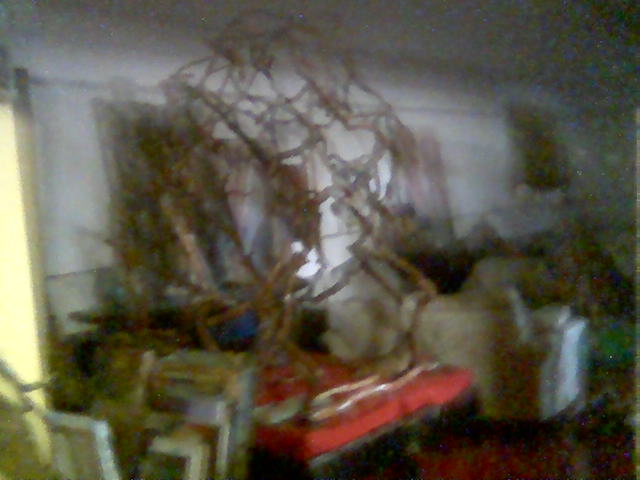 AN ORIGINAL "BALDACHINE"OF WOOD CREATED BY ONE OF THE ARTISTS SHARING THE STUDIO.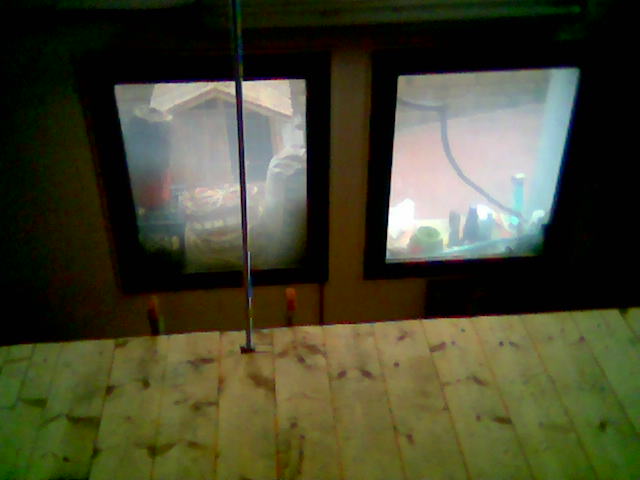 "ROOM WITH A VIEW" ON TOP(INTERMEDIATE FLOOR). GUEST HAS A VIEW UPON DOG'S HOUSE.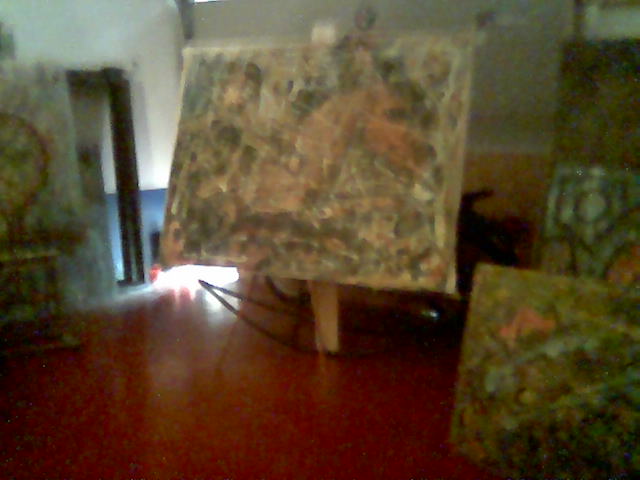 SECOND ENTRANCE,NOW JAMMED BY PAINTINGS, IS A GARAGE DOOR.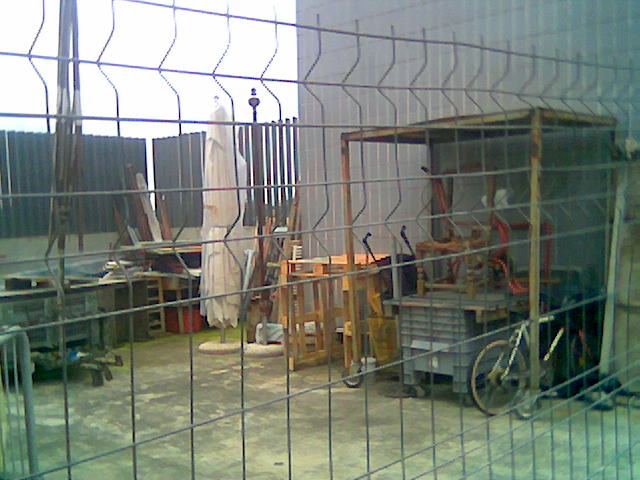 COURTYARD IS DEDICATED TO WORK AS WELL. IT IS USED DURING WARM DAYS.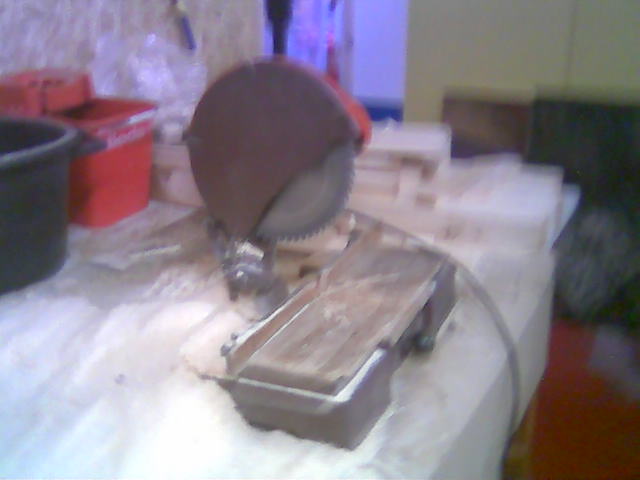 INSTRUMENTS ARE ALWAYS READY TO BE USED AND ARE KEPT IN PERFECT ORDER.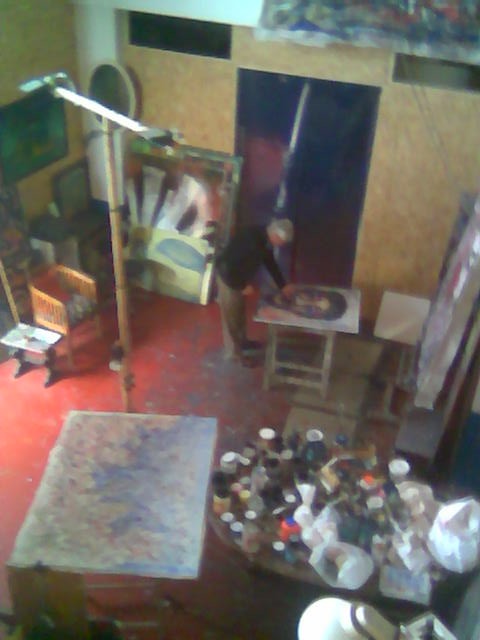 PAINTING AREA; VIEW FROM THE INTERMEDIATE FLOOR.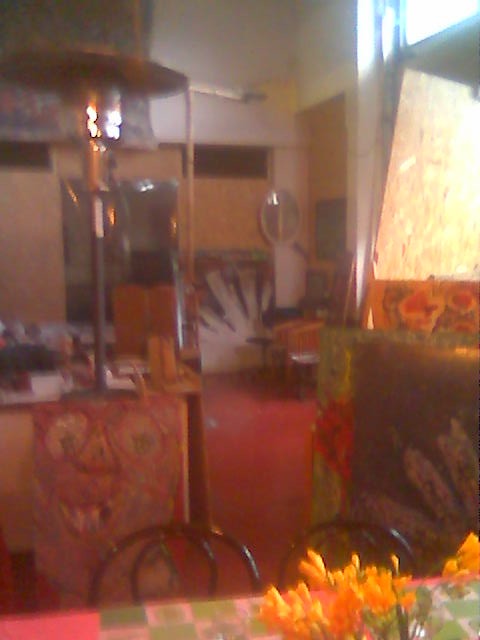 THE WHOLE PAINTING AREA IS HEATED BY GAS STOVE.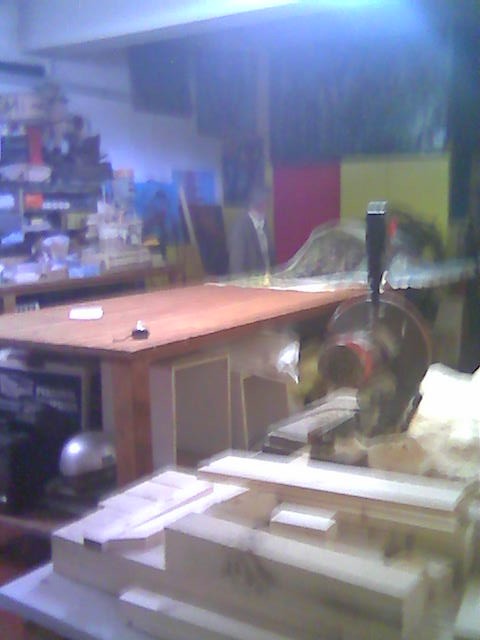 ONE OF THE "ROOMS" CREATED BY SEPARES , IS DEDICATED TO WORK WITH WOOD AND METAL . HERE VARIOUS NEEDS OF THE ARTISTS ARE SERVED-ANYTHING FROM ENORMOUS STRETCHERS FOR PAINTINGS TO SMALL CABIN-HOUSES WHICH SUBSTITUTE ROOMS ARE MADE HERE.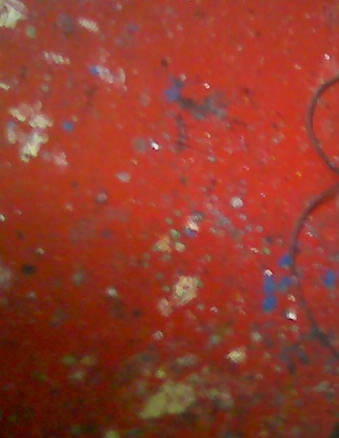 THE FLOOR IS AN "ARTWORK" AS WELL...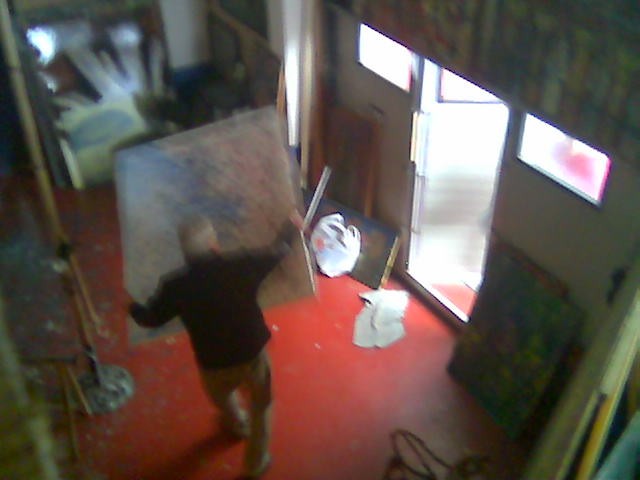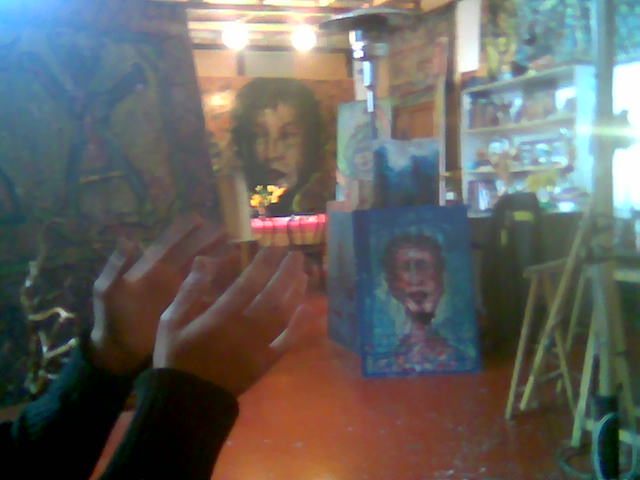 FAVORITE DISCUSSION POINT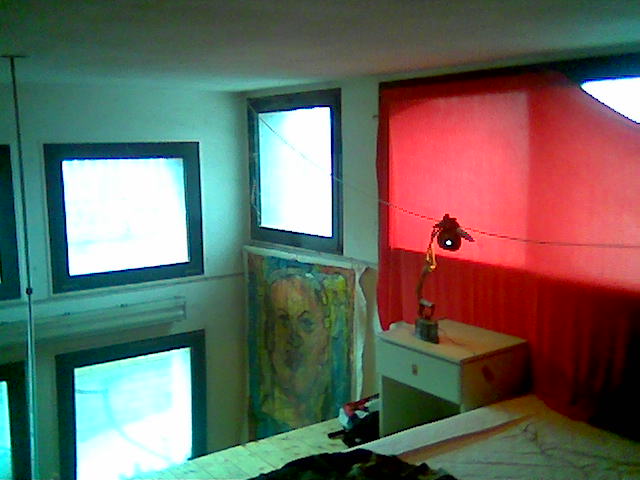 SLEEPING AREA OF INTERMEDIATE FLOOR RESERVED FOR GUESTS. NATURALLY, IT HAS BEEN CREATED IN THE HOUSE.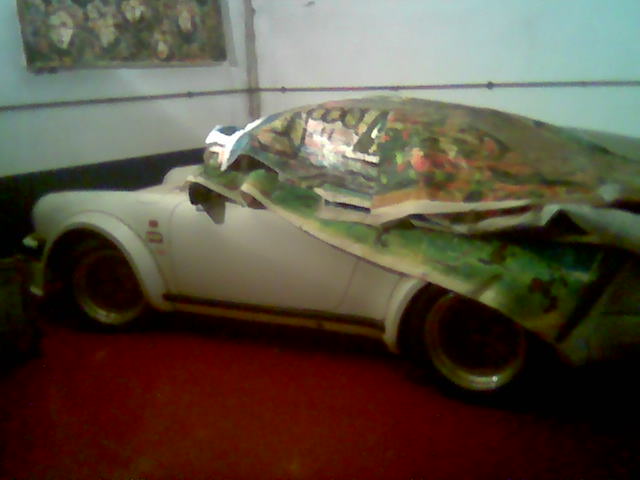 A LUXURIUOS CAR USED NOW AS A STAND FOR PAINTINGS TO DRY IS THE ONLY REMINDER THAT ORIGINALLY THE STUDIO WAS A GARAGE.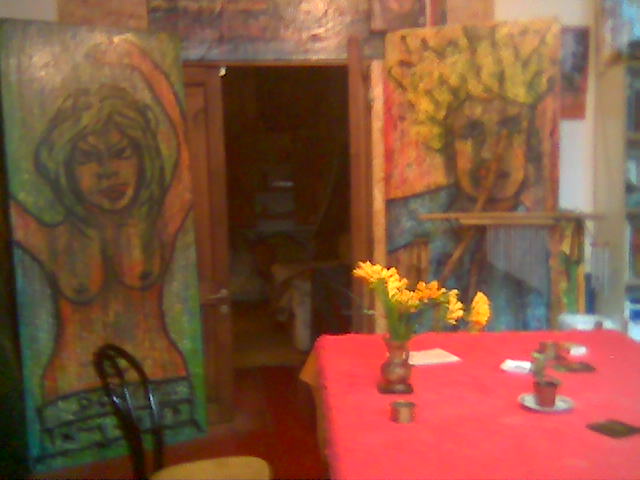 ENTRANCE TO THE ONE OF THE ARTIST'S ROOMS, VIEW FROM THE DINING AREA.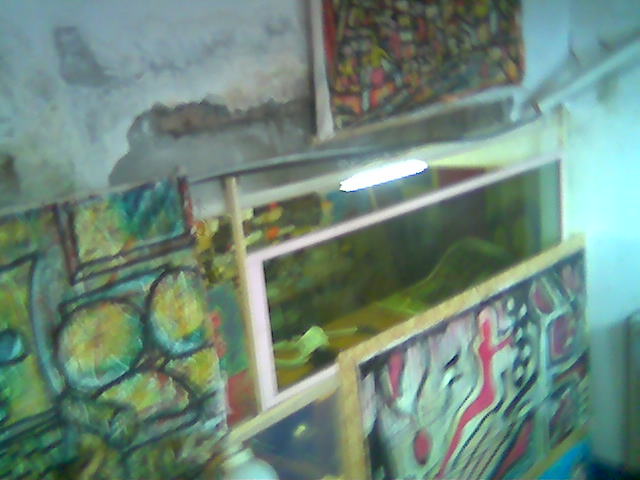 VIEW FROM THE "GUEST'S ROOM" FROM THE INTERMEDIATE FLOOR OF THE WORK AREA.